Removable Flexible Partial Denture
Flexible partials are the latest trend in market to provide you with more comfortable experience than traditional plastic partial dentures. They are used when only few teeth are missing and in cases where in a fixed bridge is not possible. Traditional plastic dentures could be traumatic to use and is more prone for breaking. Flexible denture is more comfortable to use and maintain.
Benefits
High biocompatibility
Improved comfort
Aesthetics
Reduced chair time
When considering a removable partial, many people find the Flexible Partial to be the most comfortable option. The results of the flexible partial are beautiful, and patient satisfaction is very high. The fabrication process is non-invasive, and gives you confidence in your restoration while talking, eating and most importantly, smiling!
We offer two basic types of Flexible denture :

Bredent
Flexible, Comfortable, Unbreakable & Highly Biocompatible Features :
Flex is a monomer-free denture base material for unbreakable and flexible partial dentures
Safe processing in the Thermopress 400 injection moulding units allows the fabrication of delicate partial and temporary dentures (layer thickness of 0.5mm can be safely injected)
Offer your patients the benefits of materials which are highly biocompatible
Simple trimming and polishing
Better shade stability and higher stain resistance than other flexible resins

Valplast
Our prosthodontist will explain the indications and contraindications of partials and help choose the one that's right for you.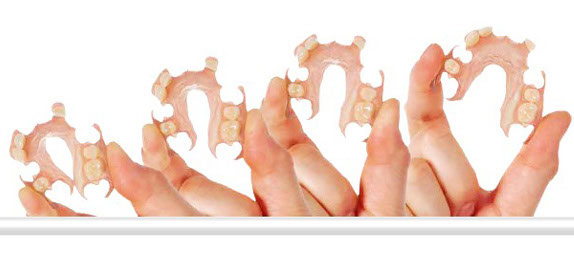 See the way its bends. These partials bend to suit your needs.